John E. Rutherford (1927-2023)
John Rutherford, Toronto Star, November 16, 1992
Edison's favorite invention was the It is with great sadness that we learned of the recent passing of one of CAPS' longest surviving members, John Rutherford. John had been a member of CAPS since February 1978, and contributed so much during the many years that he was involved. He served as President from 1984 to 1988, then as Past President for a further four years. John returned to the Executive as our Vice President for 1992-1994, and was later granted the honour of being nominated as a "Life Member" in 2000.
During this period John also greatly contributed by giving more than 23 presentations at CAPS meetings and authored more than 57 articles that were published in Antique Phonograph News. Fortunately these have been preserved and are available on line via the CAPS website. John had a different and thought provoking manner in which to research and present a varied line of topics, which made you think about possibilities that were not always obvious at first.
Some of the items that John brought to our auction table were simply unique, and rarely had a minimum bid on them. I count some of the best records in my collection as being supplied by John throughout the years.
I recall John coming to the majority of our meetings when he lived in the Toronto area. We always connected well and he would greet me with his famous John Rutherford smile. It doesn't matter what we were discussing, he always had this cheerful persona about him, which made him such a pleasure to know.
John touched the hearts of all who knew him, and he will be greatly missed by those of us who were fortunate to have met him.
Mike Dicecco
---
John and his wife Ann drove in from Ottawa to attend a CAPS meeting in February 2020
What a different world from first encounter with John Rutherford in a Toronto meeting room when I joined CAPS in 1990 to my last with him in 2022 when he joined our meeting from Gatineau, QC via the internet and Zoom. To the end John stood out from the crowd because of the way he held himself and because of his deep very "English Gentleman" voice. There was an air of authority about him, too, but I soon saw that it came with large doses of humility and kindness. One of my enduring memories is of John often showing up at CAPS with treasures for the auction table that he had picked up for a song on his regular tours of Goodwill stores and garage sales. He was always quite happy to see them auctioned to another CAPS member for a song, too, with nary a mention of a reserve price. Talking of songs, John's passion was opera and I suspect that his main reason for joining CAPS in its early days might have been to source operatic records for what became his huge collection of music. I'm sure he would smile if he heard me say that he didn't have much competition among CAPS members when operatic records came up for auction.
John Rutherford's many presentations at CAPS meeting revealed him as an intellectual, a thinker and a contrarian. He would challenge his audience with novel theories about things like the famous Nipper and His Master's Voice painting. He would share obscure revelations such as the apparent synchronicity between the Wizard of Oz and Pink Floyd's Dark Side of the Moon. His meticulously prepared presentations were always entertaining, informative and thought-provoking, leaving his audience well-satisfied and sometimes bemused.
John contributed to CAPS as an accomplished presenter and writer for nearly 40 years, as well as filling the official roles of Program Convenor 1980 - 1983, President 1984 – 1988 and Vice President 1992 – 1994. He delivered more than 50 articles and many presentations, spanning nearly 40 years and continuing into his nineties.
John was one of the few people I have known who make statements that cause me to think, with a sense of admiration, "how do they know that?". I'm impressed that they seem to live in a different world of knowledge and understand things that I'm not even conscious of. It was during one of John's presentations that he mentioned a particular famous painting and the different interpretations of its meaning. That piqued my interest and prompted me to attend one of John's lectures in a church hall somewhere in Toronto, where his knowledge and understanding of art was revealed in a way that changed the way I look at art for ever. Only then, after all those years of thinking that I knew John, did I discover that he was an artist himself, a teacher of art and an accomplished poet, too.
Although I knew John for many years, his passing causes me to reflect on how much of him I didn't know. Nevertheless, what I do know was all good and I have no doubt that my warm memories of this true gentleman and stalwart of CAPS will stay with me forever.
Mike Bryan
---
Some Early Recordings
Violet Essex
Figure 1
I present here four different labels, all of which were current during the second decade of the 20th century. All are dark blue or black in colour with gold lettering, and many of the labels announce that they are proudly British, which might indicate that they were issued during World War I. For example, the Grammavox label (see Figure 1) informs us that it was "made entirely in England throughout all processes."
The singer on this disc is Violet Essex who sang at Covent Garden before she was 20. During the war, she sang in London's "Chu-Chin-Chow" for 5 ½ years. On my record, she gives a very good performance of an operatic aria called "No, No, No", composed by Mattei.
There is an aria in Meyerbeer's opera "Les Huguenots" called "No, No, No, No, No", but it bears no resemblance to the Grammavox version.
There is a story that another aria to replace the "No, No ……" was composed especially for Emma Albani's debut in London. Could the Grammavox recording be Albani's version?
Madam Jomelli
Figure 2
The "Stella-Gramophone-Record" (see Figure 2) was "Recorded in England, pressed in Dresden". (Pre-World War I?) The singer is Madam Jomelli (1879-1932), who was best known as a leading soprano with the Oscar Hammerstein Opera Company. Her choice of song here is Lisa Lehmann's "The Cuckoo", a very popular concert piece during the Edwardian Age. Today, it is often sung for the unintended humorous title.
The Victory Record (see Figure 3) contains two songs sung by Wilfred Virgo. Wilfred who? I couldn't find much information about him. One computer entry said "Wilfred Virgo, active 1911. Probably British."
And now the bad news! Years ago, before I had heard of Wilfred Virgo, I met an elderly woman in a small town north of Toronto, who claimed to be the daughter of Mr. Virgo. It was a passing remark to which I paid no attention. Shame! Later, when I had come across several of Virgo's recordings, I attempted to find his daughter – without success. A treasure trove – perhaps gone forever.
Figure 4
Figure 3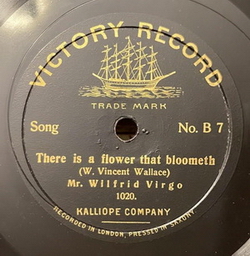 Mr. Virgo had an appealing "Irish tenor" voice. On the record illustrated here, he sings "There is a Flower that Bloometh" from Wallace's English opera, "Maritana". It is a love song and suitable for his voice. When he tries something more "operatic", such as the tenor part in the Duel Trio from "Faust", he has to take the high notes in "falsetto", which today would not be considered acceptable. He also recorded for the "Winner" and "Popular" labels.
The "Diploma Record" (British Manufacture") (see Figure 4) is a pure delight. Not only is it in superb condition, but the singer is Miss E. Vine, about whom, I shamefully admit, I know nothing. Her voice is true and strong, and she could be either a soprano or a contralto. Her two numbers on the record, "The Songster's Awakening" and "Silver Birds" are Victorian concert pieces, but in my opinion, Miss E. Vine could probably sing anything and make it rememberable.
Here is a list of other singers who recorded on one or more of the labels shown:
T.F. Kennelburgh, a fine Scotch basso; Amy Augarde, mezzo-soprano (1868- 1959); Grace Ivell, a mezzo-soprano, sings "Kathleen Mavourneen", dated 1912; Herbert Williams, tenor; Bertram Ellis, baritone; A Chapman, baritone; Hilda Mulligan, soprano (sings "Jewel Son" from "Faust"); R. Carr, basso; Norman Williams, basso, (you can see and hear him on the computer singing "I am the Leader of the Band"); Carrie Lanceley, soprano; Harry Thornton, baritone; Horace Mather, tenor, who sings a good "I'll Sing Thee Songs of Araby"; Vincent Hards, tenor; and Henry Turnpenny, baritone.
Mr. Lempriere Pringle
Figure 5
The above list is not to suggest that all these singers are "top-drawer", but there is one more singer to name who had a distinguished career – Mr. Lempriere Pringle, basso. He was Australian by birth, but he became well-known for his singing at Covent Garden in London in the 1890s. Around 1895, he moved to the United Sates and sang small roles at the Metropolitan Opera in New York, but by 1898, he was given leading roles, including Mephistopheles ("Faust"), Dr. Bartolo ("Marriage of Figaro"), and Hunding ("Die Walkure").
Altogether, he sang in 19 different operas which included many by Richard Wagner. His only recording that I have is of "The King's Prayer" from the opera "Lohengrin". It is on a Grammavox record (see Figure 5) and the voice is rich, powerful and steady. I do not know when he made this recording but it must have been recorded in or before 1914, as that is the year of his death.
The name "Pringle" rings another bell in the minds of opera lovers. In 1883, a Miss Pringle (Lempriere's sister? Cousin? Aunt?) was hired by Richard Wagner to sing the role of Rhinemaiden in the opera "Das Rhinegold". One day, when Wagner was very ill and confined to bed, Miss Pringle visited him, and there was a heated argument. A short time later, Wagner took a turn for the worst and died.
Here's a conjecture. If the two Pringles were related, it would be a strange coincidence indeed where one member of a family promoted admiration of Wagner's music by means of a wonderful voice while another member helped to kill him by shouting.
Harry Joseph's "Perrot Troupe"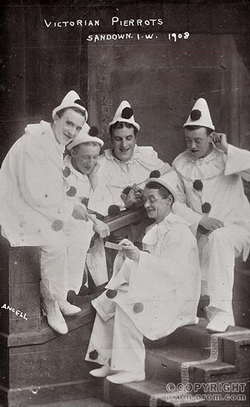 Figure 6
Finally, a person noted:
In the late 1800's it was quite common in England for Vaudeville groups to put on shows on the beaches of seaside towns. Some of their performances took place every day throughout the summer, and a single group might be associated with one town for years. Permanent stages were common with a defined area for the audience who would pay three-pence each for the use of a deck chair, or one could choose to stand further away and pay nothing.
Harry Joseph's "Perrot Troupe" was one such permanent group. In the late 1890s they began entertaining on the sandy beach of Littlehampton on the south coast of England. By 1911, they were good enough to win first prize in a National competition at the Palladium Theatre in London, and at that time, they recorded four choruses for Grammavox Records (see Figure 6).
In 1939, as a boy of 12, I was living in Littlehampton where a "troupe" performed daily during the summer. I don't know if this group had any connection to the "Joseph" show, but it was jolly good entertainment – and free. The last time I heard them was at 11 o'clock on the morning of September 3. During the show, the Air Raid sirens sounded for the first time – Britain was at war with Germany – and, of course, the show was stopped.
It turned out that the alarm was false. Someone had seen a flock of geese flying in a V formation – and panicked.
Eighty years have now gone by and the world has changed – and I sometimes wonder if some troupe still sings on the beach of Littlehampton.