A Short History of the First 100 Years of Recorded Sound in Canada
Emile Berliner examining a disc master (c. 1915)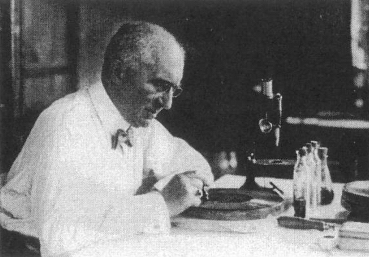 The recording industry in Canada has always been closely allied to the major American and European recording companies and, indeed, even today most recordings distributed and purchased in Canada are pressed from foreign matrices. There have been, however, many notable, even unique, contributions made by Canada and Canadians to the field which has concerned itself with the preservation of sound.
The first recordings made in Canada were those produced at Rideau Hall in Ottawa by the governor-general, Lord Dufferin, and his guests who gathered on May 17th, 1878 to witness a demonstration of Edison's tinfoil talking machine. Several months later, on October 19th, 1878, Edison was granted Canadian patent #9282 for "improvements in means for recording Sounds and in reproducing such Sounds from such Record". This patent, as well as the demonstration, involved a disc recording device, a system Edison would not further develop for another 35 years. At about this time Alexander Graham Bell, then a resident of Brantford, Ontario, together with his cousin, Chichester Bell and British-born scientist Charles Sumner Tainter, were working on various improvements to Edison's concept, including the use of wax-coated cylinders. The Bell- Tainter group were granted Canadian patent #26703 on April 20th, 1885 embodying these improvements.
Emile Berliner divested himself of his U.S. patents in 1897 (they were taken over by Eldridge Johnson, who later founded The Victor Talking Machine Company). On November 25th, 1895 Berliner had been granted Canadian patent #55079 and in 1899 he moved to Montreal where he set up the first Canadian recording and distribution business at 2315-2316 Catherine Street under the name E. Berliner, Montreal. He rented space from the Bell Telephone Company at 367-71 Aqueduct Street (he had previously worked as a consultant to this firm) and installed four record presses. Here he also assembled cabinets for his gramophone, the inner workings of which were imported from Eldridge Johnson in the United States.
Drawing from the first Canadian phonograph patent No. 9282, filed by Edison, 1878.
On April 8th, 1904 the Berliner Gramophone Company of Canada, Ltd., was incorporated to "manufacture and deal in gramophones, gramophone records, and accessories, devices and appliances pertaining to or in any way connected with gramophones or talking machines generally...". The new company also became the presser and distributor in Canada of recordings from The Victor Talking Machine Company and other Berliner affiliates throughout the world. Herbert Samuel Berliner (1882- 1966), Emile Berliners oldest son, was a prominent stock holder of this company and was later named vice president and general manager, which put him in a position to have a profound effect upon the Canadian recording industry.
Early in this century, sensing Berliners attempt to corner the Canadian record market, Edison and Columbia, Berliner-Victor's major competitors, set up distribution companies in Toronto. Berliner, however, appears to have been the only company to have done any mastering there during the first decade of the 20th century. Edison's American-made cylinders (and, from 1913, discs) were simply distributed in Canada and Columbia did not begin pressing records in Canada until 1912. Berliner was taken over entirely by The Victor Talking Machine Company (U.S.) in 1924. Columbia was active under various names (1954-1976 as Columbia Records, now CBS Records Canada, Ltd.) from 1904 with production coming under the control of Sparton of Canada (a subsidiary of Sparks-Worthington of the U.S.) in 1939. Thomas Edison ceased all Canadian activity in 1926.
The first entirely Canadian-made recordings were issued by Berliner in 1900. They were 18 centimeter (seven-inch) discs, followed in 1901 by 25.5 centimeter (10-inch) and in 1903 by his De Luxe 30 centimeter (12-inch) discs. Double-sided discs were first issued in Canada in 1908. These initial recordings were pressed from matrices belonging to affiliated Berliner companies in Britain, Germany, France, and the U.S. The first commercial recording by a Canadian artist was a performance of "La Marseillaise" by Joseph Saucier (1869-1941) which was recorded in Montreal. It is not known exactly when this master was made, as it replaced Ferruccio Giannini's earlier release of the same work (Berliner #9).
In addition to Berliner (Victor), Edison and Columbia, other early Canadian recording and distribution companies included Canadian Vitaphone (Toronto 1913-1916), which pressed imported masters; Pathé Freres (Montreal 1915-c. 1921), distributor of recordings pressed in France; Brunswick-Balke-Collender (Toronto 1917- 1934), a subsidiary of the U.S. firm with processing taken over by the Compo Co., Ltd., in 1932; and Phonola (Pollock Manufacturing Co., Kitchener, Ontario, 1918- c. 1925), distributor of imported labels and manufacturer of Phonola equipment from 1914.
Drawing from the first Canadian phonograph patent No. 55079, filed by Berliner, 1895.
Despite this early activity Canada depended largely upon recordings imported from the U.S. and other countries in the early decades of the century, although discs were often pressed in Canada from imported masters. Similarly, Canadian artists usually had to travel elsewhere to prepare masters for pressing by local production companies. Canadian artists who made significant contributions to record catalogues at this time included Emma Albani, Henry Burr, Pauline Donalda, Harry Macdonough, and cornetist-conductor Herbert L. Clarke (U.S. born, but raised in Canada). The first ensemble recordings produced in Canada were those made in July 1902 by the Gordon Highlanders Regimental Band (the Kilties Band) of Belleville, Ontario, directed by William FE Robinson (Berliner #802-810).
In the first half of the century the demands of the large French-speaking population of Canada created a ready market for recordings indigenous to their unique culture. Thus a large number of early recordings were produced for a market that had no foreign source. French-Canadian artists who recorded in this genre included Joseph Allard (fiddler), La Bolduc (pseudonym of Marie or Mary-Rose-Anne Travers, singer), Conrad Gauthier (folksinger), Henri Lacroix (harmonicist), and Charles Marchand (singer) both as an individual and with his Bytown Troubadours. Canadian artists who developed an international recording career at this time included Guy Lombardo and his Royal Canadians, Wilf Carter, Percy Faith, and Hank Snow.
The advent of radio broadcasting in the mid-1920s seriously affected record sales in Canada, and the ensuing economic Depression caused all but the most stable firms (most, significantly, tied to U.S. or European concerns) to cease operations — even Columbia folded temporarily. The surviving firms included RCA Victor, Starr Co. of Canada (formerly Canadian Phonograph Supply Co.), and Compo Co., Ltd., all of which featured Canadian performers. Starr (active 1918-c. 1955) was based in London (Ontario); it distributed the Starr-Gennett label (U.S.) with records pressed at the Compo plant. Compo (active 1918-1964) was founded by Herbert S. Berliner in Lachine, Quebec, fundamentally as a pressing plant for several labels including Decca, Phonola, Sun, and Apex as well as Starr-Gennett. It had several labels of its own (including Compo) that featured Canadian performers. Compo was acquired by the Music Corporation of America (MCA) in 1964.
Sparton of Canada Ltd. (London, Ontario), established in 1930, was the pressing plant for Columbia from 1939 until 1954, after which date it became independent. Sparton was the first Canadian company to press stereo records. A small company active at this time was Celtic (Antigonish, Nova Scotia), which began operations in 1933 but was taken over by Rodeo of Montreal in 1960. This company specialized in traditional music of the Maritime region.
A Berliner standard gramophone model "A" (c.1902).
A new era in Canadian recording began in 1945 when the Canadian Broadcasting Corporation (CBC) began to record works by Canadian composers and artists. These recordings were, at first, not available commercially, but were distributed to affiliated radio stations in an attempt to increase Canadian content in broadcasting, In a related development the Radio Canada International (RCI) transcription service was established in 1947 to provide recordings of Canadian performances to foreign audiences. In 1966, as demand grew for distinctly Canadian performances, the CBC recordings began to be issued commercially.
A plethora of Canadian recording companies sprang up across the country in mid-century, urged on by a growing demand, both from the broadcasting industry and the public,for recordings with Canadian content. Capitol Records of Canada, Ltd.(from 1955 Capitol-EMI), was established in 1954, although Capitol records had been pressed in Canada by Regal Records under licence to Musicana (U.S) since 1946. Tip Top Records of Newmarket, Ontario, was established in 1948 by Max Boag (pseudonym of Harry Glenn) and specialized in commercial and custom recordings. Other companies active in this era included: Aragon (Vancouver, 1945); Rodeo (Montreal, 1949); Beaver (Toronto, 1950); Canadian Music Sales operating under the Dominion label (Toronto, 1950); Quality (Toronto, 1950); Allied (Montreal c. 1950); Ed Archambault's Alouette label (Montreal, 1952) and Select label (1959); Hallmark (Toronto, 1952); Gordon V. Thompson's Gavotte label (Toronto, 1952); Orfeo (Montreal, 1954); Ross, Court and Co.'s Rococo label (Toronto, 1955); and Arc (Toronto, 1958).
Despite the large number of Canadian record producers active by 1960, the broadcasting industry could not meet the growing demand for material with Canadian content. Thus in 1962 the Canadian Talent Library (CTL), a non-profit trust, was formed to produce recordings by Canadian artists and composers. Initially these discs were provided only to affiliated private radio stations across Canada, but in 1966, by which time 80 albums had been produced, CTL masters began to be leased to RCA, Columbia (CBS), Capitol, and other major record producers so that they might be released for public sale. By 1977 a total of 211 albums had been recorded by the trust. A similar project was begun in 1963 by the Composers, Authors and Publishers Association of Canada (CAPAC) in cooperation with the Canadian Association of Broadcasters (CAB) which subsidized Canadian recordings issued commercially by Capitol, Columbia, RCA, Decca, and others. In a related development, Toronto radio station CHUM established the Maple Leaf System in 1969 to promote the broadcasting of Canadian recordings.
An early 7-inch Berliner disc (c. 1900).
Several new recording companies emerged in the 1960s, including Baroque (Montreal, 1962); Gamma (Montreal, 1965); Cantilena (Toronto, 1966); Polydor (Montreal, 1966) which became Polygram in 1978; London, a subsidiary of Decca of London (Montreal, 1967); Aquarius (Montreal, 1968); Sackville (Toronto, 1968); and General Recorded Tape (GRT), a subsidiary of the American Firm which originated in London (Ontario) in 1969 and moved in the same year to Toronto.
The Canadian Radio and Television Commission (CRTC)established new regulations in 1970 increasing to 30 percent the amount of Canadian content that would be required of Canadian radio broadcasters, greatly increasing the market for the many new record companies that emerged in this decade. These included: A & M (Toronto, 1970); True North (Toronto, 1970); Boot (Toronto, 1979); Astra (Montreal, 1972), a label of the Canadian Association of Broadcasters; Goldfish (Richmond, British Columbia, 1973); Melbourne (Peterborough, Ontario, 1973); Onari (Toronto, 1973); Attic (Toronto, 1975); Kébec-Disk (Montreal, 1974); Masters of the Bow (Toronto, 1974) which reissued historical discs; Aquitaine (Toronto, 1974); Bernadol (Toronto, 1975); Music Gallery (Toronto, 1976) devoted to experimental and native music; Umbrella (Toronto, 1976) a direct-to-disc label introduced by Nimbus 9 and acquired in 1979 by Sine Qua Non of Toronto; Tapestry (Ottawa, 1978); and Magnum (Toronto, 1979) the Canadian label of GRT (see above). The Canadian Independent Record Producers Association (CIRPA) was established in 1974 to coordinate the activities of the many production companies then operating.
By 1970 the largest percentage of recordings sold in Canada were being pressed here, but prior to that time the studio production of recordings by Canadian artists still largely took place elsewhere, principally in the U.S. Before 1970 only six recording studios of international calibre existed in Toronto (RCA, Hallmark, Sound Canada, Bay Music, Eastern Sound, and Toronto Sound), while by 1981 almost 150 recording studios capable of producing quality multitrack master tapes were active across the country. While many of these operations lacked any permanence, some of the most successful and long-lived included: Solar Audio and Recording (Dartmouth, Nova Scotia); Bobinason Sound, Studio Tempo (Montreal); PS.M. Studio (Quebec City); Le Studio (Morin Heights, Quebec): Marc Studios (Ottawa); Comfort Sound, Eastern Sound, Kinck Sound, Manta Sound, Sound Kitchen, Sounds Interchange, Nimbus 9/ Soundstage, Zaza Sound Productions (Toronto); The Waxworks (St. Jacobs, Ontario); Century 21, Wayne Finucan Productions (Winnipeg); Damon Sound (Edmonton); Andromeda Sound, Bullfrog Studios, Little Mountain Studio, Mushroom Studios, Ocean Sound, and Pinewood Productions (Vancouver). By 1971 several of these studios possessed equipment sophisticated enough to attract international recording artists. Le Studio, for example, currently operates a 48-channel production studio with advanced CAD capabilities, which allows mastering of increasingly popular high-tech music videos as well as advanced album-cover design.
The first Berliner Gram-O-Phone company-owned store
at 2315-2316 St. Catherine St., Montreal.
The RPM Gold Leaf Awards, established in 1964 by the periodical RPM and commonly known after 1970 as the Juno Awards, are presented annually to the most outstanding Canadian recordings artists, based upon record sales tabulated over a 14-month period. Categories and means of selection have varied over the years, but since 1975 the Canadian Academy of Recording Arts and Sciences (CARAS) has administered the awards. In 1974 the Juno awards were supplemented by the Canadian Music Hall of Fame and the Big Country Awards, and in 1976 categories for classical and jazz recordings were included for the first time. In the same year the Canadian Music Industry Awards were instituted. From 1965... awards were presented to French-Canadian artists during a week-long exhibition in Montreal known as Festival du Disque and in 1979 the Association du Disque et de I'Industrie du Spectacle Québecois (ADISQ) established similar awards in Quebec.
The problem of disseminating information to record dealers and the broadcasting industry with respect to the availability of Canadian recordings was becoming increasingly difficult by 1982, due to the large amount of material then available. Thus the CIRPA/ADISQ foundation was established for the specific purpose of making available catalogue listings ofrecordings by Canadian artists. Known as the Canadian Record Catalogue, the data were entirely computerized from the inception of the project and were initially available in hard-copy versions of about 1,000 pages including 43,000 data records indexed on 80 fields and updated about every three months. By 1984 the data were so extensive that the catalogue is now available only in an online version accessible directly from the main computer database in Toronto.
A consortium of broadcasters, record producers and publishers banded together in 1982 to form the Foundation to Assist Canadian Talent on Records (FACTOR) to promote the production and marketing of Canadian records. Principals among the participants in this venture included the Canadian Independent Record Production Association (CIRPA) and the Canadian Music Publishers Association (CMPA). In 1983 the foundation adminis- tered almost $400,000 for the promotion of Canadian talent and in 1985 the CTL (see above), then operated by Standard Broadcasting of Toronto, joined forces with FACTOR, creating FACTOR/CTL with a budget of more than $1 million.