The Vitaphone Project
The Vitaphone Project is an ambitious undertaking by a group of U.S. collectors to recover and restore — and hopefully see re-issued — what remains of a priceless legacy from the earliest days of the film and sound recording industries. The project takes its name from the Warner Bros. Vitaphone studios which produced by far the greatest variety of "film shorts". Following is a condensed version of the authors presentation to the CAPS meeting April 2nd.
Edison's Kinetoscope
The first "talking pictures" to be a viable, commercial proposition in North America comprised of two distinctly separate elements: the image on a single reel of celluloid film, and the sound on a 12-inch or 16-inch shellac disc. Of the many thousands of these "filmshorts" produced during a ten-year period beginning in 1926, only a handful survive complete. Lost or destroyed are one or both elements. Gone are countless memorable performances by artists of the day, some of whom made no other form of commercial recording.
Poor quality sound and imperfect synchronization plagued the first attempts at "talking pictures".
In 1889, Thomas Alva Edison introduced the Kinetophone. Edison produced a series of films with sound, using a large, longer than standard-playing Amberol cylinder. But the only thing synchronized about the Kinetophone was that the film and the cylinder started and stopped at the same time! In 1913, Edison offered theatre owners a new and improved Kinetophone (Fig. 1), but its success was short-lived. The inventor had still not overcome the basic problem of synchronization, and theatre owners were inclined not to invest in additional and costly equipment to use the Edison system. Only 45 Kinetophones sold.
At about the same time, Lee De Forest made the first of his attempts, applying technology he had developed to improve detection of wireless telegraph signals. In 1919, Theodore Case used a mirror attached to a diaphragm as a means of capturing sound within the site of the margin of the film to develop in his Movietone system the first "sound track". De Forest was to improve on this system and in 1922 he produced his first Phonofilm. It was the first commercial "talking picture", and by 1925 De Forest had produced a number of Phonofilms featuring popular performers, among them Eddie Cantor. De Forest and the Phonofilm, however,failed, due primarily to lack of capital.
Fig. 1: Thomas Alva Edison examines a reel of Kinetophone film (circa 1913).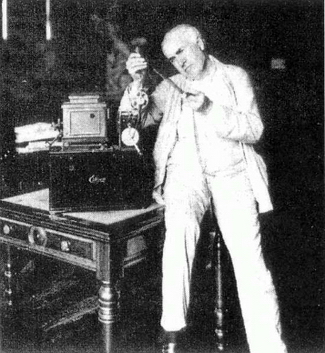 Few theatre owners expressed any real interest or enthusiasm for the first "talking pictures". They considered "talkies" no more than a novelty and that the cost of rewiring a theatre for sound not worth the investment. Silent films were firmly entrenched. Harry Warner, of Warner Bros. Pictures, echoed the views of many critics and skeptics when he was quoted as saying: "Who the hell wants to hear actors talk?"
Bell Telephone Laboratories, through its subsidiary Western Electric, was looking for a foothold in the film industry. By mid-1925, its electric recording process had been adopted by the major recording companies — Brunswick, Columbia and Victor. With minor modification, and building on the experience and expertise of De Forest and others, the electric recording process was adapted to provide quality sound and improved synchronization using a disc-based sound system.
The system — called Vitaphone — consisted of a motor which powered simultaneously a turntable and a film projector (Fig. 2). Sound was projected from behind and below the theatre screen using horns up to 14-feet in length.
Vitaphone discs were single-sided, lateral-cut, centre- start, 12-inch and 16-inch in diameter, and played at 33 1/3 revolutions per minute. (Most of the discs were pressed by The Victor Talking Machine Company.) The disc was placed on the turntable at a precisely designated starting point in the run-off groove. The film had a "start" frame at the beginning of each reel that was set in the gate of the projector.
Discs used in the Vitaphone system were shellac, but with less of the usual abrasive filler so that surface noise was minimal. The disadvantage was rapid wear of the disc; consequently, it had to be replaced frequently in the projection room. The number of times a disc could be played was indicated onits label and after use — normally about 20 plays — the disc was destroyed or returned to a local distributor. If a disc was not returned or accounted for, a penalty was assessed. This practice accounts, to some degree,for the rarity of Vitaphone discs.
Fig. 2: The Warner Bros. Vitaphone system consisted of a motor which powered simultaneously a turntable and a film projector.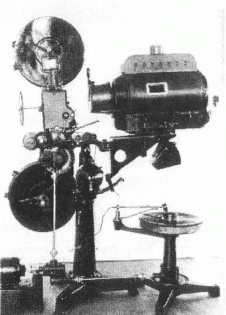 Warner Bros. Pictures negotiated an exclusive leasing arrangement with Bell Labs. for the Vitaphone system. (Bell would later offer this and other systems to other film studios.)
The first Vitaphone studio in Brooklyn, New York, proved unsuitable for sound recording. Apart from poor acoustics, the former Vitagraph studio adjoined the Coney Island line of the New York transit system. Warner Bros. leased Oscar Hammerstein's old Manhatten Opera House for a year while the Brooklyn studio was equipped for sound recording. Production began in earnest at the "new" Brooklyn studio in March of 1928.
By 1929, the Vitaphone studios were operating around the clock, 24-hours a day. Many of the earliest Vitaphone "film shorts" were crude, single-shot productions with little on-stage action, no movement of the camera, and the most minimal editing. Confining the camera to a booth to eliminate the noise of its motor was partly to blame, as this rendered it immobile (Fig. 3). With few exceptions, Vitaphone "film shorts" were one reel, between four and ten minutes in length.
Perhaps the most famous of the more than 400 Vitaphones produced was "The Jazz Singer" of 1927, with Al Jolson. It was the first "talking picture" to achieve commercial success throughout the U.S.
The Vitaphone "film shorts" offered an enthusiastic public most every form of popular entertainment in "talking pictures", from vaudeville to opera, dance to theatre. Warner Bros. ceased using a disc-based sound system in 1931. "Soundtrack" technology had advanced and, from production and commercial points of view, the advantages became more apparent. Warner Bros. continued making "film shorts" at its Brooklyn studio, using the new technology, until 1939.
The Vitaphone Project was officially established in 1991 with the purpose oflocating and cataloging Vitaphone and other "film shorts", e.g., MGM, Paramount, etc., and disseminating and exchanging information through a network of government, commercial and special interest groups, and private collectors throughout North America and overseas. And towards this end, the Project has "on-line" an international data base.
Fig. 3: The camera for Vitaphone "film shorts" was housed in a soundproof booth to eliminate the noise of its motor during production.
Public archives, commercial sound libraries and private collections hold much of what remains of "film shorts", some complete, others missing the film or sound element. The Project has accessed these holdings and from this base has built a formidable network of contacts and resources. It continues to cast its net widely and a critical source of information has been gathered through interviews with performers, writers, technicians and production people, and many others involved or connected in some way with early "films shorts".
In its first months of activity, The Vitaphone Project established the existence of nearly 1,500 discs. Priority is given to finding discs needed to restore what films survive.
Support has come from some unexpected quarters. Entertainer and film buff Jerry Lewis discovered a sound disc of a 1929 Vitaphone in a stack of 16" transcriptions from the popular "Martin and Lewis" show. This made possible the restoration of "Bag O'Trix", with vaudeville star Trixie Friganza. And Hugh Hefner is funding the restoration of four Vitaphones — three from 1928 feature Gus Arnheim with crooner Russ Columbo in the singer's first screen appearances, and one from 1929 features Green's Twentieth-Century Faydettes, the most successful all-girl band of the early 1920s. How this restoration has come about demonstrates the kind of partnership that the Project has been able to facilitate: the Library of Congress in Washington has the film and some discs, ucta in California has the missing discs and the technical capability to undertake the physical restoration, and private funding is underwriting the cost of the work.
Unique sound discs also found in private collections have included a performance by Joe E. Brown from "Don't Be Jealous", his first "film short"; and a 12-year- old Buddy Rich drumming, singing and dancing from the Vitaphone "Sound Effects". The search is on for the missing films.
A major "find" has been "Al Jolson in a Plantation Act", the entertainer's first "talking picture" from 1926. It offers a rare glimpse of Jolson on-stage. Both elements of this Vitaphone were thought lost; even company correspondence from 1933 suggested that neither could be traced. After decades of rumour and speculation, the discovery of the film in the Library of Congress raised hopes, and re-kindled interest and enthusiasm in the missing disc. Enterprise and persistence paid off with the discovery of a badly damaged copy of the 16" disc. It was cracked in several places and had been crudely repaired with a household adhesive. The skill and talent of other collectors were pressed into service and the disc was expertly "disassembled" and "re-assembled" so that it would track correctly and could be digitally re-recorded.
Fig. 4: Canadian contralto Jeanne Gordon (1884-1952) appeared in two Vitaphone "film shorts" in 1927. She is shown here as Dalila in the Saint-Saens opera. (Collection: James B. McPherson)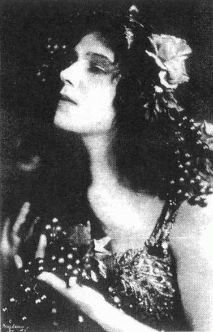 Natural calamities have made their presence felt: one collectors library of thousands of sound discs survived the California earthquake of 1993, but another collection of hundreds of sound discs, nitrate film, and an extensive library of paper material "went up in smoke" during the disaster.
Independent of the Project's initiatives has been the restoration and release of "Red Nichols and His Five Pennies", filmed by Vitaphone in New York in 1929 and featuring Eddie Condon and Pee Wee Russell, among other great jazz artists. Collector Frank Powers discovered the sound disc in private hands and approached the Turner Entertainment Company, which holds the rights to Vitaphone and many other "film shorts", and the two elements were brought together to complete another successful collaboration. Other commercial reissues have included "Swing, Swing, Swing", a collection of 46 Vitaphones, and "Dawn of Sound", seven hours of a variety of "film shorts".
One Canadian singer is known to have appeared in Vitaphone "film shorts": contralto Jeanne Gordon (1884-1952). Gordon sang opposite two of the great operatic tenors of the period, Beniamino Gigli and Giovanni Martinelli. In 1927, she appeared with Gigli in an excerpt from Verdi's Rigoletto, and with Martinelli in excerpts from Bizet's Carmen. Production of a third Vitaphone with soprano Mary Lewis, in excerpts from Offenbach's The Tales of Hoffmann, was never completed. The American was caught up in a dispute with Warner Bros. over her conduct "on the set".
In the Encyclopedia of Music in Canada, Jim McPherson describes Jeanne Gordon as a "tall and handsome woman with a magnetic personality" (Fig. 4).
Gordon made her debut at the Metropolitan Opera in New York November 22, 1919 and remained a principal contralto with the company for nine consecutive seasons. Appearances in European opera houses and concert tours followed. Her last appearance was in 1930 with the Toronto Promenade Orchestra. She suffered a mental collapse soon after and was admitted to a Missouri sanatorium where she remained until her death of a heart attack. She was buried in her home town of Wallaceburg, Ontario.
Gordon never quite fulfilled the promise of her early career. Her recorded legacy includes just nine single-sided 78s for Columbia (1920-1922) and two for Victor (1927).
Fig. §: A Vitaphone company of Toronto record (circa 1916). "The life-like sound record — not living and breathing but the same"! There is no connection whatsoever between this company and the Warner Bros./Vitaphone companies. (Collection: David E. Ross)
Endnotes
The name Vitaphone was not new in 1926. The American Talking Machine Company issued a label of the same name. The Vitaphone label was discontinued when the company ceased operations in 1900. In 1902, there was a 7-inch American Vitaphone Record, and between 1912-1917 the American Graphophone Company produced a Vitaphone label for the Vitaphone Company of Plainfield, New Jersey — the Music Master Vitaphone Record. And in 1907 a Vitaphone Company was incorporated in New Jersey which, in 1912, introduced the Vitaphone phonograph. This company also produced a Vitaphone label.

The Vitaphone Company of Toronto was issuing records in 1916 (Fig. 5). The masters were obtained from Columbia — albeit of outdated material from one to five years old. The label description states: "The Life-like sound record — Not living and breathing but the same"!

Kinetophone, Movietone, Phonofilm and Vitaphone were just four of many film-sound systems. Others included the Camera-phone, the Chronophone, the Cinephone, the Cinephonograph, the Photocinema, the Projectophone, the Synochronoscope, and the Vivaphone. There were many others.
Sources
Colin J. Bray (Toronto, Ontario). Personal communication.
Encyclopedia of Music in Canada [2nd Edition]. Toronto: University of Toronto Press, 1992, page 538.
David Goldenberg (Rydal, Pennsylvania), The Vitaphone Project. Personal communication.
Richard Green (Ottawa, Ontario), Music Division, National Library of Canada. Personal communication.
Ron Hutchinson (Piscataway, New Jersey), The Vitaphone Project. Personal communication.
Guy A. Marco. Encyclopedia of Recorded Sound in the United States (New York: Garland, 1993), pp 751-752.
James B. McPherson (Toronto, Ontario). Personal communication.
William Sham. The Operatic Vitaphone Shorts. ARSC Journal 1991;22(1):35-94.
Curt Wohleber. How the Movies Learned to Talk. Invention & Technology 1994;10(3):36-46.
What Was Seen and Heard
Vitaphone No. 2136 [excerpt/sound disc]: "Sing Me a Baby Song", the Gus Arnheim Orchestra (Hollywood, 1928).
Vitaphone No. ? [excerpt/sound disc]: "Pals", Willie and Eugene Howard (New York, 1929).
Vitaphone Corporation demonstration film [excerpt]: "The Voice From the Screen", presented October 27th, 1926 to a meeting of the New York Electrical Society.
Vitaphone Corporation's "Opening" Program [excerpt]: "The Wizard ofthe String," with Roy Smeck, and "Recitar!... Vesti la giubba," from Leoncavallo's / Pagliacci, performed by Giovanni Martinelli (August 6th, 1926).
Vitaphone No.41s [excerpt]: from Act III of Verdi's Rigoletto, with Beniamino Gigli, Jeanne Gordon, Giuseppe De Luca, and Marion Talley (February, 1927).
Vitaphone No. 474 [excerpt/Golden Age of Opera LP EJS 470]: from Act II of Bizet's Carmen, with Giovanni Martinelli and Jeanne Gordon (April, 1927)