Master Violinist Eugčne Ysa˙e on Disc
by Arthur E. Zimmerman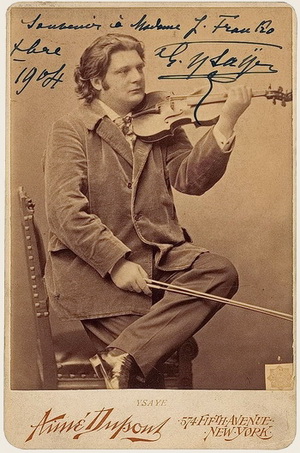 A 1904 cabinet card of the great Belgian
violinist Eugčne Ysa˙e, signed by him

The technology did not exist to preserve the artistry of many great violinists of the mid-19th century: the devilish Nicolo Paganini, Ole Bull, Ferdinand David, Charles de Beriot, Edouard Remenyi, Henri Vieuxtemps and Henri Wieniawski. We are therefore extremely fortunate to have recordings, albeit primitive ones, of the sound of Brahms' friend Joseph Joachim (1832-1907), Pablo de Sarasate (1844-1908), Leopold Auer (1845-1930), Jeno Hubay (1858-1937), Maud Powell (1864-1920), Willy Burmester (1869-1933), Arnold Rosé (1863-1946), Julius Conus (1869-1942), Jan Hrimaly (1844-1915), the ten year-old Jascha Heifetz (1901-87), Carl Flesch (1873-1944), Henri Marteau (1874-1934) (a, b) and Eugčne Ysa˙e (1858-1931) (a, c ,d).

Eugčne Ysa˙e

Born in Liege in 1858, Ysa˙e studied at the Liege Conservatory. Its director once wrote, "Ysa˙e plays the fiddle as the birds sing - naturally". Later he studied 3 years with the great violinist-composers Wieniawski and Vieuxtemps in Brussels, then with Massart, Wieniawski's teacher, in Paris. Ysa˙e was an extremely hard worker, always building his technique and had a brilliant career as soloist for over 30 years. His playing was described as a needed synthesis of the two major violin styles of his time, the classic, serious Joachim with his depth of feeling, and Sarasate with mellifluous tone and technical brilliance (1). Ysa˙e became the most important influence in late 19th century violining, the master of bowings, arpeggios, harmonics, left-hand pizzicato and multiple stopping. He was leader of the Belgian school of violin playing, Professor of Violin at the Brussels Conservatory, 1886-98, and Kapellmeister to Queen Elizabeth of Belgium. He composed several concerti and concert pieces for violin solo, chamber music and operas.

Ysa˙e was master of the French vibrato, making the violin sound more sensuous. He also went to higher bow pressure and you will hear the French portamento in his recordings, sliding between notes. Ysa˙e would not exactly slide between notes, but would sound a note from just below and then slip his finger into place. Colleague "Carl Flesch stressed the originality of style in Ysa˙e's playing....a free and often wilful interpretation...extracting a maximum of expressiveness from every phrase" (2).

Henry G. Lahee wrote (3) that Ysa˙e "possesses that magnetism which charms alike the musician and the amateur because of his perfect musical expression". The violinist was a man of large and powerful physique, he "plays with a bold and manly vigour and yet with exquisite delicacy", a master of phrasing and beauty of detail. He has not so broad a tone as Joachim or Wieniawski, but "combines Sarasate's tenderness of tone and showy technique with more manliness and sincerity than Sarasate gives". Conductor Sir Henry Wood said (4), "I learned more in these early years from this great man than from all the others put together. The instant he began to rehearse, I sensed his master mind....What impressed me more than anything was his marvellous singing quality and perfect rubato....". Yehudi Menuhin said that Ysa˙e's playing was "exuberant, flamboyant, as elegant in his phrasing, incredibly charming and alluring as only the fusion of the Belgian and French schools could produce". Pablo Casals said that he had never heard a violinist play in tune until Ysa˙e, and George Bernard Shaw, as music critic, described Ysa˙e's playing as "bumptious" (5).

Eugčne Ysa˙e, purportedly in the Columbia Graphophone Company studios in New York, while recording Brahms' Hungarian Dance #5, December 30, 1912


Label of 12-inch Columbia Tri-color disc 36524 of Brahms' Hungarian Dance No. 5 in G, recorded in New York by Eugčne Ysa˙e, December 30, 1912 (c). The disc is in the Symphony Series of the Columbia Graphophone Company. The Columbia catalogs and record labels called the violinist Eugen Ysa˙e, but his son's biography (4) used the name Eugčne
(photograph from the author's collection)
Columbia Graphophone Records
Victor Talking Machine got the jump on Columbia Graphophone and Edison in featuring a catalog of the greatest opera and concert stars of the day. Columbia reacted too late, in 1906-08, with its Symphony Series, better known as the Tri-Colors. As well as a stunning array of European and American opera stars, the Columbia Symphony Series catalog soon included cellist Pablo Casals, pianists Josef Hofmann, Leopold Godowsky, Liszt pupil Arthur Friedheim and pianist-composers Xaver Scharwenka and Percy Grainger; plus violinists Eugčne Ysa˙e, Toscha Seidel, Kathleen Parlow and Eddy Brown. Columbia also issued orchestral recordings of Bodanzky and the Metropolitan Opera Orchestra, Stock conducting Chicago, Stransky and the New York Philharmonic Society, Thomas Beecham and orchestra, Ansermet and Diaghileff's Russian Ballet, Messager and the Paris Conservatory, Altschuler and the Russian Symphony, Walter Damrosch and the New York Symphony, Kunwald and then Ysa˙e with Cincinnati.
Columbia Graphophone Records in the Tri-color A-series and in the Ysa˙e deluxe, single-sided editions, were recorded at 80 RPM. Mostly double-sided, they were manufactured in a 3-ply layering process, with light cardboard laminated between the two thin shellac playing surfaces (6). Columbia Tri-colors are generally under-rated by critics and collectors, but they did contribute an immense musicological treasure to posterity. Part of the problem is that the durability and the sound quality of the Columbias was inferior to the Victors and Edisons, perhaps because fibres from the cardboard interior layer penetrated up into the grooved surface. But Columbias could boast a certain kind of unbreakability.
YSAYE IN THE COLUMBIA STUDIO: ANOTHER VIEW
Another photograph of Ysa˙e has turned up, taken in the Columbia Graphophone studio, New York, on the same day as the full-length in-studio shot of December 30, 1912. For this photo, the photographer turned ninety degrees to his right and stepped back to capture not only Ysa˙e, but the recording horn on his left, with its cloth sound-muffler, protruding through the wall from the mechanical room, and Ysa˙e's long-time accompanist, Camille De Creus at the piano. It' s interesting that, rather than the earlier method of backing an upright piano to the recording horn, Columbia was confident enough to use a small grand piano with only the front part of the lid open and folded back, just several feet from the horn.
Ysa˙e's Violin Solo Records for Columbia Graphophone
For many years, Ysa˙e had refused to record but, on his 1912 American tour, Columbia requested that he record for them. He set imposing conditions, $30,000 for 15 sides plus 33% of the profits, and Columbia accepted. So, about a month before his appearance with the Toronto Symphony, Ysa˙e started cutting the first of his fifteen 12-inch sides for Columbia Graphophone Company in their New York City studios. He recorded on December 20, 24, 26, 27, 30, 1912, February 1, 1913 and on March 9, 1914. It was probably a contract and a half, for fifteen sides. Fourteen sides are known to exist (c, d) but only twelve are listed in the 1918 catalog (7).
The Ysa˙e discs were not issued with the usual Symphony Series A-designations, but under their matrix numbers in the 36,500s, as single-sided records at $1.50 each. Of the ten Ysa˙e originals in the author's collection, seven are autographed in the wax but on two of them the autographs are mostly covered by the paper label.
Listen to Eugčne Ysa˙e
Brahms Hungarian Dance No. 5 in F-sharp minor
Columbia Tri-color disc 36524-2
Recorded December 30, 1912
Mendelssohn Violin Concerto in E Minor, Op. 64
III. Allegro molto vivace
Columbia Tri-color disc 36520-2
Recorded December 27, 1912
Eugčne Ysa˙e - violin
Camille De Creus - piano
The Columbia Graphophone catalog of September, 1917, praised "...the breadth, dignity and power of his art....though...the last word in technique of his instrument, it is not primarily as a technician that his greatness is evident. The purity and absolute music of his tone have never been equaled. Anything foreign to tone in the contact of the bow with the string does not exist for Ysa˙e". Columbia went on to say, "The most notable authorities in the world have been unanimous in according to Ysa˙e a position in advance of all other musical artists of his day" (7).
His son Antoine wrote that his father was quite taken by his records: "Listen. I missed the cut there, but you see how I returned to the beat". Listening to the cut version of the finale of Mendelssohn's e minor Concerto, "I never thought I played it as well as that! Listen. Most violinists rush it, they will take the finale too fast - like a breathless gallop, too wild altogether. What is needed is the maintenance of a steady rhythm, and a careful observance of the time. Try it with a metronome and you will see what I mean. You will find that I am steady throughout." (4). He played with a dazzling speed in order to fit the 12" sides.
Ysa˙e also said, "Yes, I gave way to the fashion of the day. I could not very well refuse on account of those I shall leave behind me. But I shall not touch the money - it will come in for my grandchildren". Unfortunately, that money, invested in an American forestry company, was lost in the 1929 financial crash (op. cit.).

EUGENE YSAYE ON FILM

The world of music is fortunate to have over a dozen 80 RPM sides of the great artistry of Eugene Ysa˙e, the "tsar" of violinists, but there are no sound films of his playing.  There does exist, however, a 22-second silent film clip of Ysa˙e, shown in Bruno Monsaingeon's documentary "The Art of Violin". In it, Ysa˙e is purportedly playing the finale of Mendelssohn's Violin Concerto in e minor, which he recorded for Columbia Graphophone in New York City on December 27, 1912. Monsaingeon's notes say that the film was shot in Belgium in 1912, but the film obviously shows Ysa˙e in a small recording studio and Ysa˙e never recorded anywhere else but in New York.

In one frame-grab, left, a large recording horn can be seen standing on its flared end against the wall behind the violinist's left shoulder. In a second frame-grab, right, the piano keyboard is visible between the body of the violin and Ysa˙e's left hand fingering the strings. Taken together with the two formal photographs, shown above, of Ysa˙e in the Columbia studio in late 1912, the film clip has to have been shot in the Columbia studio in New York, and probably on December 27, 1912, the day of his recording session for the Mendelssohn side.
Ysa˙e's Solo Appearances in Toronto
Ysa˙e's Toronto debut was scheduled for Massey Hall on December 4, 1894 (8) but, after some contention, a contract was concluded for his appearance at the old Pavilion Music Hall in the Horticultural Gardens (9; 10). And then the date was moved up to December 18 (11, 12), the first of at least nine Toronto appearances through 1918. "The moment he stepped on the platform, tall, decidedly fat, with leonine hair and strong passionate face, the audience liked him. But when he played, the personality of the man was forgotten in admiration of his wonderful genius....the absolute purity of tone, the marvellous technique, the passion and intensity of his interpretation...moved the audience to enthusiasm....The Pavilion was kept at an unpleasantly high temperature during the evening..." (13).

Front cover of the Toronto Symphony Orchestra concert program of January 23, 1913,
which featured Ysa˙e as soloist


Program page of the fourth program of the seventh season of the Toronto Symphony Orchestra, the concert of January 23, 1913, in Massey Music Hall, Toronto, with Mr Eugčne Ysa˙e as soloist
In his 1912-13 American tour, Ysa˙e gave 118 concerts, appearing with Frank Welsman and the Toronto Symphony Orchestra at Massey Hall on January 23, 1913. The house was overflowing, with 200 in the chorus stalls above the stage. He played Viotti's Concerto #22 "with a grace and flexibility...distinguished by nuances, subtle gradations of power and style of bowing".... with "the absolute perfection of accuracy of technique but with the superadded charm of a free play of varied tone quality and varied delicate changes of dynamics". In the magisterial Beethoven Concerto, he "won his audience by his seductive, sweet tone and by a smoothness of style that in cantilena it was difficult to detect when he changed the bow from down to up...". He was given sixteen curtain calls and graced the grateful audience with an encore of Sarasate's "Havanaise"(14). His accompanist for encores was pianist Camille Decreus.
Incidentally, in the embryonic TSO's first violin section was Mme. Bertha Dreschler Adamson, former concertmaster and one-time pupil of Mendelssohn's friend, Ferdinand David.
Ysa˙e returned for a recital at Massey Hall on February 19, 1913, billed as his last appearance here ever. He provided "an evening of serene enjoyment....His cantilena was most imposing, and the fiery warmth of his conceptions and scintillating brilliancy carried the audience into ecstasies....moments of bewildering tour-de-force, reposeful cantilena, impulsive and tender expression in quick succession....a study in simple dignity and scholarly refinement..."(15).

Eugčne Ysa˙e with violin, in publicity photograph
"The supremely gifted, towering, leonine" violinist (16) was back for another recital on March 19, 1917. He was escorted from the train to the King Edward Hotel by an officer of the Y.M.C.A. Military Department of the Exhibition Camp and he and son Gabriel gave a concert for the soldiers at that C.N.E. military camp at 6:30 p.m. From there, they went to Massey Hall for their 8:15 p.m. concert (17). "...He played in magnificent form, with transcendental beauty of tone, dazzling execution, and that polish and symmetry of style for which he has always been distinguished (18). Father and soldier-violinist son played Godard's "Duettini" and the piano accompanist was M. Dambois. Ysa˙e was recalled 15 or 16 times during the evening and responded with several extras".
He returned for another Massey Hall recital on November 7th, accompanied by Miss Victoria Boshko but, before the concert he again played for the men at the Exhibition Camp at the C.N.E. (19). At a reception given by the Hambourgs, Ysa˙e was thoroughly at ease, smoking his after-luncheon pipe, moving from group to group and giving an "irresistibly funny account" of breaking his G string in last night's concert. Returning from "the dining-room wearing a woeful countenance", he exclaimed that "the ladies had been there before him and there was nothing left for a poor man to eat" (20).
In his 1918 Massey Hall concert, his performance of Vieuxtemps' 'Fantasia Appasionata' was "....a dazzling display of virtuoso playing - so much so that the audience interrupted the solo before it was finished by a spontaneous demonstration of applause". He and former pupil Jan Hambourg played Bach's Concerto for 2 Violins, with Mr. Beryl Rubinstein at the piano. It was a large audience, but with many seats empty due to the flu epidemic (21).

Final Tours and Appointment to the Cincinnati Symphony
After an earlier U.S. tour beginning in the autumn of 1913, Ysa˙e and party returned to Europe in July, 1914 but, after the German ultimatum, decided to leave for England, then to Madrid for four concerts in March 1915, to Paris and back to England, where he worked at revising and editing music. Queen Elizabeth of Belgium suggested that her "Maître de Chapelle" should visit the Belgian front to entertain the troops, which he did in the summer of 1916, sometimes concertizing while an artillery duel boomed nearby. Once he played a Beethoven quartet there with his pupil Queen Elizabeth as second violin. He said of her, "She plays badly divinely". Another American tour was next, arriving in New York in December, 1916.
During these concert tours, he felt his powers declining, partly owing to diabetes, so he accepted the offer of the Cincinnati Symphony Orchestra to take over as conductor, a contract for $25,000. The former conductor, Dr. Ernst Kunwald, a German national, had been jailed as an enemy alien, along with Dr. Karl Muck, conductor of the Boston Symphony. Ysa˙e spent four seasons with Cincinnati, 1918-22, returning to his house in Belgium every summer. He brought works by modern French and Belgian composers to Cincinnati, plus Florent Schmidt, Malipiero, Debussy, Stravinsky, Mahler, Bartok and Schoenberg (4).
From November 28-30, 1919, Ysa˙e recorded 19 sides with Cincinnati for Columbia, all in New York on the orchestra's second eastern tour. In 1918 there were two double-sided Kunwald discs in the Columbia catalog, and by 1921, the two Kunwalds plus just one double-sided Ysa˙e record from 1919, A-6140, the overture to "Orpheus in Hades".
Ysa˙e and Cincinnati in Toronto
He brought the orchestra to Toronto on its first eastern tour, in early 1919. Part of the concert was to be with the Toronto Oratorio Society, but all sorts of things went wrong. The orchestra arrived late and 20 players short, due to the flu epidemic, so they could not play the Franck Symphony in d, substituting Mozart's 40th (22). Also, orchestral parts for one of the choral pieces were missing, so Dr. H.A. Fricker, Healey Willan and Richard Tattersall scrambled to write out the missing parts while the concert was in progress. Ysa˙e "conducted with quiet dignity and skill and showed excellent qualities of leadership" (23).
Eugčne Ysa˙e declined renewal of his Cincinnati contract in 1922, opting to return home to work at his music, including composing a Walloon opera, "Peter the Miner". But his wife had died, the spirit in Europe had changed, prices were rising, people were struggling to stay alive, so he stayed at home, composed music, taught, conducted and played his violin less and less (4).

&nbsp&nbsp&nbsp&nbsp&nbsp
| | |
| --- | --- |
| &nbsp&nbspLeft: | Belgian stamp issued for the inauguration of the Eugčne Ysa˙e International Competition in 1937, showing Queen Elizabeth of Belgium (1876-1965), founder of the competition and patron and pupil of Ysa˙e. |
| &nbsp&nbspCentre:&nbsp | Belgian commemorative stamp of 1958, showing Eugčne Ysa˙e, issued for the centenary of his birth. |
| &nbsp&nbspRight: | Belgian stamp issued in 1976 for the 25th anniversary of the Queen Elizabeth of Belgium Competition, formerly the Eugčne Ysa˙e Competition. Queen Elizabeth (1876-1965), the master's patron and pupil, is shown playing the violin. |
REFERENCES:
| | |
| --- | --- |
| &nbsp&nbsp1.&nbsp | Notes by Margaret Campbell to "Eugene Ysa˙e: Six Sonatas for Solo Violin" played by Oscar Shumsky (Nimbus Records, NIM CD 5039, Great Britain, 1983) |
| &nbsp&nbsp2. | "Great Masters of the Violin, from Corelli and Vivaldi to Stern, Zuckerman and Perlman" by Boris Schwartz (Simon & Schuster, New York, 1983) |
| &nbsp&nbsp3. | "Famous Violinists of To-day and Yesterday" by Henry C. Lahee. (L.C. Page & Co., Boston, 1899) |
| &nbsp&nbsp4. | "Ysa˙e: His Life, Work and Influence" by Antoine Ysa˙e and Bertrand Ratcliffe (William Heinemann Ltd., London, 1947; pp. 117-18) |
| &nbsp&nbsp5. | "Ysa˙e" by Prof. Lev Ginsberg (Paganiniana Publications, Neptune City, .N.J., 1980) |
| &nbsp&nbsp6. | "American Record Labels and Companies: An Encyclopedia [1891-1943]" by Allan Sutton (Mainspring Press, Denver , Colorado, 2000) |
| &nbsp&nbsp7. | Columbia Graphophone Record Catalogues, September, 1917 and September 1918 and 1921, (U.S.A.) |
| &nbsp&nbsp8. | Toronto Globe, November 6, 1894, p. 1 |
| &nbsp&nbsp9. | Toronto Globe, November 13, 1894, p. 10 |
| 10. | Toronto Globe, November 15, 1894, p. 1 |
| 11. | Toronto Globe, November 29, 1894, p. 2 |
| 12. | Toronto Globe, December 3, 1894, p. 5 |
| 13. | Toronto Globe, December 19, 1894, p. 3 |
| 14. | Toronto Globe, Jan. 24, 1913, p. 6 |
| 15. | Toronto Globe, February. 20, 1913, p. 8 |
| 16. | Toronto Globe, March 15, 1917, p. 6 |
| 17. | Toronto Globe, March 19, 1917, p. 9 |
| 18. | Toronto Globe, March 20, 1917, p. 6 |
| 19. | Toronto Globe, November 6, 1917, p. 8 |
| 20. | Toronto Globe, November 9, 1917, p. 6 |
| 21. | Toronto Globe, October 11, 1918, p. 6 |
| 22. | Toronto Globe, March 6, 1919, p. 6 |
| 23. | Toronto Daily Star, March 6, 1919, p 8 |
UNCITED REFERENCES:
| | |
| --- | --- |
| &nbsp&nbsp1.&nbsp | "The Welsman Memoranda: including Reviews of the Toronto Symphony Concerts from 1906 to 1918" by H.M. Welsman (Northern Miner Press, Ltd., 1971) |
| &nbsp&nbsp2. | "Discography of American Historical Recordings" (University of California at Santa Barbara, 2008) |
| &nbsp&nbsp3. | "The Online 78 RPM Discographical Project by Steven Abrams and Tyrone Settlemeir (The Hunking Duck)" |
DISCOGRAPHY:
CINCINNATI SYMPHONY / YSAYE ON COLUMBIA
49697 - Massenet - Le Cid: Navarraise, rec. N.Y. 11/28/19 - A6159
49698 - Rubinstein - Monastery Bells, Op. 10 #22, rec. N.Y. 11/28/19 - A6193
49699 - Rimsky-Korsakoff - Scheherazade - 1st movement, rec. NY 11/28/19 - A6172
49700 - La Danseuse: Intermezzo, rec. NY 11/28/19 - UNISSUED?
49701 - Maillart - Overture to Les Dragons de Villars, rec. NY 11/28/19 - A6195
49702 - Lassen - Festival Overture, rec. NY 11/28/19 - A6197
49703 - Mendelssohn - Midsummer Night's Dream: Scherzo, rec NY. 11/28/19 - A6190
49704 - Delibes - Naďla: Intermezzo, rec NY, 11/28/19 - A6190
49707 - Offenbach - Orpheus in Hades: Overture, rec. NY 11/29/19 - A6140
49708 - Offenbach - Orpheus in Hades: Overture, rec. NY 11/29/19 - A6140
49709 - Menuett, rec. NY, 11/29/19 - UNISSUED?
49710 - Massenet - Thaďs: Meditation, rec. NY 11/29/19 - UNISSUED?
49711 - Rimsky-Korsakoff - Scheherazade - 3rd movement, rec. NY 11/29/19 - A6172
49712 - Macbeth - Love in Idleness, rec. NY, 11/29/19 - A6182
49713 - Scčne religieuse, rec. NY, 11/29/19 - UNISSUED?
49714 - Czibulka - Hearts and Flowers, rec. NY, 11/29/19 - A6182
49715 - Chabrier - Marche joyeuse, rec. NY, 11/30/19 - A6197
49716 - Barcarolle, rec. NY, 11/20/19 - UNISSUED?
My thanks to Bill Pratt for editing and preparation of the illustrations, and to Ms. Christina Eaton, Associate Principal Librarian of the Cincinnati Symphony Orchestra.
---
Ysa˙e Treasure Found
by Arthur E. Zimmerman

A week after the autumn 2018 APN arrived, containing the article "Master Violinist Eugčne Ysa˙e on Disc", Bill mentioned that a local second-hand bookshop was closing down after 35 years. That twigged a memory that, about 20 years ago, I had seen a signed photo of Ysa˙e hanging behind the cash desk in that store. On the remote chance that it might still be there, I went down and found it still there on the wall, an 8x10" framed publicity photo, hidden by a clump of plastic bags. So, as a corollary to the CAPS article, here is my authentic signed photo of Ysa˙e.

The team quickly sorted out the dedication, in French, reading "Sympathique souvenir offert ŕ Mlle. Honor Clayton, E. Ysa˙e, Ottawa / 6 mars 1905" and then a music quotation. Mlle. Clayton was given the autographed photo during or after Ysa˙e's recital at the Russell Theatre, Ottawa, on Monday night, March 6, 1905. A sell-out crowd paid between 75˘ and $2.00 a ticket and Mlle. Clayton heard Handel's Sonata in g minor, "Ballade et Polonaise" by Ysa˙e's teacher Vieuxtemps, the great "Chaconne" by Bach and Saint-Saëns' Violin Concerto #3. Ysa˙e was called back for five encores, including a spell-binding version of Schumann's "Abendlied". His piano accompanist was M. Jules de Befve, head of the piano department at Ličge Conservatory.

The Ottawa recital was part of a 75-concert tour of North America by "The Tsar of the Violin", originally contracted for the kingly sum of $72,000. By the end, he did 120 concerts, even conducting orchestras. Ysa˙e and his wife arrived in late 1904, he gave multiple New York concerts, and we found reviews from as distant as Minneapolis and Oakland. In Cincinnati, for a second encore, he sat in with the first violins playing the "Meistersinger Overture" by Wagner, and the audience went completely mad, so loud that the orchestra couldn't start. Initially feeling fatigued before a concert in Chicago, he played a Mozart concerto, then the Beethoven and the Bruch Concerti without rehearsal; a triumph, "a concert to be starred in gold". Also a concert at Montreal's Monument National on January 31 and in Toronto on March 16. Still tired from New York, on Massey Hall stage his strength returned and his fingers worked splendidly. The Toronto recital was Grieg's 3rd Sonata, Mendelssohn's Violin Concerto, three pieces played by M. de Befve, Tchaikovsky's "Serenade melancolique", Ysa˙e's "Ręve d'enfant", his arrangement of Saint-Saëns' "Valse caprice" , Wieniawski's fiendishly difficult "Faust Fantasy" and Bach's "Aria in C" as an encore.

Our team quickly cracked the identity of Mlle. Clayton. She was Maude Honor Clayton (1874-1963), the only child of James Alfred Clayton, a clerk in the Federal Department of Finance, and Anna Jane Clayton (née Ross) of St. George Ward, Ottawa. Honor's paternal grandfather was apparently James Clayton, Commodore of the Royal Navy. In 1907, Honor married Victor Gerrish Gray of Ottawa, but he died the next year. Widow Gray married John Stewart Robertson of Montreal in 1916 and they lived in Montreal.

Rob found Honor returning from England by passenger ship a couple of times, giving her address as 1537 St. Matthew Street, Montreal, and noted that she had taken ten years off her age.

Many thanks to the team of Rob Gilmore of N.B. Archives, to Bill Pratt and to Betty Minaker Pratt for excellent research and insights.