GEORGE WHITE:
Toronto Star Newsboy Builds a Stairway to Broadway
(Part 1 of 2)
© Arthur E. Zimmerman and Betty Minaker Pratt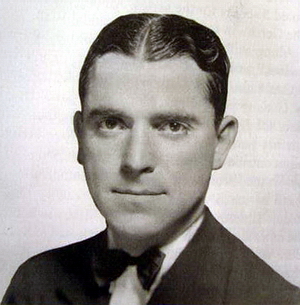 George White was a handsome, dapper and intense young man, with sleeked black hair and brown eyes. As well as being a great impresario and showman, he was also a great dance innovator and teacher. George "Always wears blue serge suits, black shoes, white silk shirts and black ties (has 140 of them). One day he wore a gray suit and the stage doorman, failing to recognize him, wouldn't let him in" (TST).
Generally he walked home between the car tracks in Times Square after the show (TST). This peculiar predilection recalls that brother William Weitz was arrested in Toronto, Sept. 24, 1900 for failing to turn his bicycle off the devil strip - the space between the pairs of streetcar tracks (Register of Criminals, CTA).

George White (c. 1891-1968), dancer, choreographer, producer, director, actor, librettist, lyricist and impresario of the successful series of "George White's Scandals" and of several book shows, left behind a personal mythology as a tough, resourceful street kid and a hard worker. His story is that he was born within sight of the Delancey Street Bridge in Manhattan, though there's a whisper that he was born in Toronto where he was a dancing newsboy. This article, a kind of pastiche from many disparate sources, is our attempt to sort out George's first 28 years, to try to tease out documentable facts from scads of hearsay reports and show-biz bumpf, to try to comprehend the intensity of this dapper, raffish little man with the sleeked hair, the drive to perfection that would induce him to work on a single step with his "Scandals" chorus from noon to midnight, until they got it just right. And his great love of gambling.

We learned, in researching the family stories of the early life of Luigi Romanelli (1885-1942), Toronto-based violinist and orchestra leader at the Tivoli Theatre and the King Edward Hotel, that Luigi teamed up busking for coins with newsboy George Weitz, who clog- and buck- danced at his stand at the corner of King and Bay Streets. After his father went broke, George is supposed to have run away from home to Buffalo, Detroit and Cincinnati at age 11, soon returned to New York, danced in Bowery and Chinatown bars, worked his way up through vaudeville and by 1910 was dancing in a major Dillingham musical. George learned from hoofing in many shows, from engagements in Paris and from two stints in the "Ziegfeld Follies" and, in 1919, opened the first of his innocently sexy "Scandals" in New York.

Looking into George White's story, co-author and intrepid researcher Betty Minaker Pratt unexpectedly found his mother's obituary in the New York Times on-line and the Toronto part of his story suddenly fell open. The mother's local obituary (TDS, June 7, 1938, p. 2) gave George's siblings' names and, with those, she found the family in the 1901 Canadian Census (CC), not as Weitz but as Whites.

The Canadian Census of 1901

George's mother, Lena Weitz
(née Alweil; TDS, June 7, 1938, p. 2)

Throughout this account, the Weitz family names are going to shift, as they did in the family record. Not only do the names shift, but the dates and facts are rarely consistent from document to document. It is clear, however, that they immigrated first to New York City. According to the CC of 1901, the family consisted of Hermann Whites (born June 9, 1848, Lemberg, Austria, now Lviv, Ukraine; immigrated to Canada in 1896 and naturalized in 1901), Lena Whites (born July 1, 1853, Lemberg, Austria) and six children: Benny Whites (born March 4, 1880), Mary White (born January 19, 1885), William White (born April 7, 1887), Jennie White (born February 21, 1889), Eassy White (born April 15, 1891) - all of them born in Austria - and Jackie White (Jacob, born February 5, 1899 at home, 32 Richmond Street East, Toronto). Not included in the 1901 census list are Adolph (born 1873 according to the 1900 USC, though his age in all his USC listings calculates back to 1877), Rose (born ~1879-83), Gertrude (born ~ 1879) and Helen (born after 1901). From his birthdate, it's apparent that Eassy (Israel) White is the boy who became George White.

On one side of Jackie's birth registration, dated May 4, 1913, the parents are Lena and (the late) Harry Whites. On the other we learn that Harry and Lena Weitz ("White" is crossed out) were married in Austria in 1871 and that her maiden name was Alweil.

The Weitz' Arrival in North America

If we were able to find the record of the arrival date of the Weitz family in North America, we could then say definitively whether Eassy/George was born in Austria or in the Lower East Side of New York City. That record has proven elusive and the whole family story has proven difficult to track, because the patriarch's name wandered around from Hermann to Herman, Harris, Harry and Henry and from Weitz to Whites, White, Weicz and Whitz. In various documents, different family members gave their arrival date as any time between 1885 and 1893. One Hermann Weitz did turn up a single time in Trow's New York City Directory, a tailor at 65 Sheriff Street, between May 1, 1891 and May 1, 1892, but the USC for 1891 is no help because it's fragmentary. The record of Herman's failed attempt to cross at Detroit, July 4, 1909, states that he lived in New York City from 1890 to 1899. We found an Adolph and a Rose Weitz, both age 19, arriving at Ellis Island in 1896, along with a Charlotte Weitz, age 17. Later, oldest son Adolf gave his immigration year as 1895 (USC 1900; 1910) and 1890 (USC 1920, 1930), while Rose gave her year as 1891 (CC 1901), though her 1944 border card says that she came to New York in 1898 (ALE). Sister Mary (Weitz) Filger of Cincinnati declared that she arrived in 1889 (USC 1920). Brother Benjamin J. Weitz said that he had immigrated to the U.S. in 1892 (USC 1910). In the 1901 CC, sister Gertrude (Mrs. Gusie Aber) maintained that she arrived in 1885, but in the 1911 CC, Gertrude (Mrs. Gassie Aber) gave her immigration year as 1893. Gertrude's 1911 border-crossing card says that she lived in New York from June 1889 to 1892, while her daughter, Clara, born in the U.S.A. in 1895, came to Canada in 1896. Very confusing, but it is possible that the oldest Weitz children may have left Europe at different times.

The Weitz Family's Arrival and Life in Canada

George's well-known story was that the family came to Canada from New York when he was seven (circa 1897-8). Hermann told the 1901 CC that he had immigrated to Canada in 1896, though he did not turn up in MCTD until 1899 (canvassed Sept. 29, 1898), a shirt manufacturer at 102 Agnes Street (Dundas Street West near Chestnut Street) and living at 32 Richmond Street East, just east of Victoria Street. Misses Minnie and Rose Weitz, also living at 32 Richmond, were machine operators at H. Weitz. (Only working people were listed in MCTD, not wives or children.) The next year, the shirt factory was gone and Miss Minnie Weitz was working at Breslin Brothers, shirt manufacturers, 76 York Street. After this, Miss Minnie disappears from the MCTD, and we do not know her relationship to the family. In 1901, Herman Weitz was listed as a pedlar and wife Lena as running a grocery store at 136 Agnes Street, north-east corner at Centre Avenue, where they also lived with son Benjamin, a cloakmaker. Agnes Street and Centre was right in the heart of the Jewish immigrant district. In 1902, the store was gone and father Henry White, son Benjamin and daughter Mary were living at 106 Chestnut Street, with the Jewish Mission (Presbyterian) in the rear of the building. Herman White was a collar maker for Beal Brothers, wholesale leather in 1903, living at 65 Queen Street East with neither wife nor children listed. A Harry White, tailor, turned up at a different address each year until 1908 when both Harry and Mary White were operators at the Lowndes Company, Men's Fine Tailored Garments. Harry White worked there through 1910, but in 1911 a Henry White had no employment listed, while Mary was at Crown Tailoring. In 1912, Henry Whitz lived at 214 Queen Street West (the Savoy Theatre), with daughter Rose and her husband Manuel Gebirtig (married in Toronto, Dec. 19, 1899), and in 1913 Lena was listed as "wid(ow) Henry" and still living on Queen Street with the Gebirtigs.

The Weitz Family

Victoria School Register of 1899/1900 for Jessie Weitz, student #2767 in Junior 2nd, age 8, born 15/3/91. He left Louisa School for Victoria School Sept. 7/99 and transferred to McCaul School 21/2/00
(TDSBA Archives)

The child called Eassy White in the 1901 CC, for Jessie, Izzy or Israel, was born around 1891. He's the only child born between Jennie (1889) and Jacob (1899), so has to be the future George. His legend is that he was born in New York City but, not knowing the date of the family's immigration, it's impossible to be certain of his birthplace. Perhaps he was born in former Austro-Hungary just before the family left, or in New York after they arrived. Certainly not in Toronto.

In the only extant school records, for The Ward (old Ward 3) in 1899, both Jennie Weitz, born April 5,1889, age 10, and Jessie (Eassy) Weitz, born March 15, 1891, age 8, were transferred from Louisa School near Trinity Square to Victoria School near Gould and Yonge on September 7, 1899 by their father (Harry Weitz for Jennie and Harris Weitz for Jessie; Victoria School Register for 1899, TDSBA). Young Jessie was in Junior 2nd (Grade 3) that year. Then, on February 21, 1900, both children were transferred to McCaul School at Elm and University. This second transfer likely coincides with the failure of the shirt factory, the move to 136 Agnes Street and the opening of the grocery store there, close by McCaul School.

The name "George" did not appear in any records while the lad lived in Toronto, though the family was apparently calling itself "Whites / White", off and on, by the time of the CC of 1901. Jessie may have adopted "George" after Sir George White, the Boer War hero, or he may have known the occupant of 136 Agnes Street, George H. White, before Lena took over that place as a grocery store, and the name appealed to him as sufficiently non-immigrant. Interestingly, as an impresario he signed his cheques "George Alviel White", incorporating a version of mother Lena's maiden name.

It's entirely possible that Hermann was extremely religious (BRC) and, like Tevye the Milkman, preferred to study the scriptures with the learned men and was not a good provider. After the failure of the grocery business, the family left 136 Agnes for 106 Chestnut for 1902, and a different address each year, until 1912 when both Henry and Lena were at 214 Queen Street West, the Savoy Theatre, run by Rose's husband Mendel (Manuel) Gebirtig (MCTD). Lena lived with the Gebirtigs through 1913 and 1914, after Hermann had died, relocating around 1915 to a 3-storey semi-detached brick house at 106 Kenilworth Avenue, in the Beaches just below Queen. Daughter Rose Gebirtig's name is in the list of women's auxiliary of the Beaches Synagogue, now the Beaches Institute, directly across the road at 109 Kenilworth. Daughter Gertrude, married to tailor Jacob Aber, lived at 20 Elizabeth Street for years.

Eassy/Jessie Weitz in Toronto

"Newsboy on Street Corner, circa 1910", Toronto - courtesy of Archives of Ontario, Item Reference Code Acc 6520, S13458. This could have been what little Izzie Weitz looked like, hawking his newspapers at King and Bay Streets several years earlier.

Like many children of improvident immigrants, little Jessie went out to make a dollar in any way that he could to help support the family. It's possible that the boy, after his first five or six years on the Lower East Side of New York, influenced by his older brothers, was extremely street-wise and a bit of a hooligan. He said that he was on his own since the age of five (TWM, Jan. 6, 1936, p. 24), so had to know how to defend himself on the streets. Jessie was certainly a Toronto Daily Star paperboy at the corner of King and Bay Streets (outside the Toronto Telegram offices!; TSW, Nov. 22, 1919, p. 26; TDS, Dec. 26, 1935, p.1; TDS, Oct. 11, 1968, p. 1), where he danced to attract attention and extra tips (TDS, May 28,1928, p. 4). He may have played the harmonica there as well. The newsboys likely played coin-tossing games, scrapped and did a little impromptu clogging while they waited around for the delivery wagons to drop off their bundles of papers, so it's entirely possible that little Jessie picked up his first dance steps from the other paperboys on the street (NYT, July 31, 1921, pt. 6, p. 1).

One night, circa 1899-1900, returning from a gig, the 14 year-old violinist Luigi Romanelli saw the eight or nine year-old Weitz step-dancing outside a stage door, they became friends and soon performing partners. They entertained for coppers and nickels on the streets, in front of the Queen's Hotel and on the old side-wheeler Island ferryboats and excursion boats. Often they were caught and tossed off the boats, but they also did the rounds of amateur night contests at local theatres and danced away with cash prizes. Once, a listener dropped a $5 gold piece into the hat, the two boys bought a bag of peanuts and adjourned to the nearest pool hall with the change (TSW, Sept. 10, 1937, p. 6; TDS, May 27, 1939, p. 26). On CBC-TV's "Flashback", George recalled that he got onto the Island Park ferry boats in Toronto harbour, along with several other kids, and they sang and danced for tossed coins. A TDS story confirms that he danced for pennies on the Island Park ferries, though the context wrongly implies New York (TDS, May 26, 1928, p. 4). Another newsboy and later singer-vaudevillian Harry Peterson, given a pass to the ferry boats as a reward for honesty by impresario Lol Solman, sang on the ferries and passed the hat. One of his chief rivals for loose change was another newsboy, longtime childhood friend "Izzie Wetz", who became famous as George White. Harry recalled that he had lived at 24 Centre Avenue and that Izzie had lived at 26 Centre (TDS, June 30, 1928, p. 8; TDS, Mar. 4, 1929, p. 22). The MCTD shows a Harris Peterson, presser/operator/tailor at T. Eaton Company, living at 88 Centre Avenue from 1901-1903, just north of Edward Street. In 1901, the Weitz family ran the grocery store at the north-east corner of Centre Avenue and Agnes (Dundas) Street, next to 61 Centre, so the boys actually lived across the street and a block apart around 1901. The Petersons moved to 64 Centre in 1904-05. Interestingly, Manuel and Rose Gebirtig lived at 76 Centre Avenue in 1904, and salesman Harris White lived in that same house in 1905 (MCTD).

The Berliner Victor record (HMV 18801-A) label is from the 10" 78-RPM recording of a medley of Gershwin's "South Sea Isles" and "She's Just a Baby" from the 1921 "Scandals", recorded August 30, 1921 by the 1921 "Scandals" orchestra, Paul Whiteman and his Orchestra.

Young Eassy/Jessie was also reputed to be one of the best peanut sellers at Hanlan's Point (G, Nov. 21, 1919, p. 8; TSW, Nov. 28, 1919, p. 26). A 1921 article says that he hawked flags on holidays, peddled balloons on outings and danced occasional steps in bar-rooms and on ferry- boats - a hundred and one odd jobs (NYT, July 31, 1921, pt. 6, p. 1). One account says that he was a Toronto Star newsboy at 8 and had his own news-stand at 12; that is, around 1903 (TDS, Oct. 11, 1968, p. 1).

We hoped that the school records from The Ward would tell us when the family arrived in Toronto, when Eassy/Jessie adopted his new name and when he ran away from home. Those precious records were lost or destroyed long ago. George did recall years later that he had appeared in front of a magistrate for stealing fruit (MJ, Sept. 14, 1946, p. 13), and that the magistrate had said, "You're a bad egg. No good will come from you" (TST; MJ, Sept. 14, 1946, p. 13). The Police Register of Criminals (PRC; CTA) shows that Israel White (from America), age 10, and Charles Goldberg (from Russia), age 13, appeared in front of Lt.-Col. G.J. Denison on December 8, 1900, for breaking into a news stand. Israel White (born in Canada), age 11, was back in front of Denison on August 21, 1901, for theft, in front of Malcolm Gibbs on July 7, 1902, along with one Christopher Harris, for disorderly conduct - this time, Israel said that he was born in Austria - and Hermann and Lena Weitz were arrested under the Truancy Act and arraigned in front of R.E. Kingsford on November 4, 1901. Charges were withdrawn against them, no reasons given. Apparently, the truancy records for that period were also lost or destroyed long ago (TDSBA).

Later, on October 19, 1903, Isaac Weitz, admitting to age 14, and William Weitz, age 17, were arraigned before Kingsford, charged under the Gaming Act. Brother William White was arrested several times in this period, for gambling, for trespassing and twice for disorderly (CTA). These are our Weitz brothers, since they were the only Weitz family in Toronto at the time. Perhaps Eassy's predilection for reckless gambling was picked up from brother William and friends on the streets of New York and Toronto. The October 1903 arrest date supports the story that the boy had his own news stand by the time he was 12 (TDS, Oct. 11, 1968, p. 1), and suggests that he did not run away from home and end up at the Windsor racetracks until perhaps the spring of 1904, age 13, and then followed the ponies and crews down to Kentucky that autumn.

Eassy/Jessie Weitz On Stage in Toronto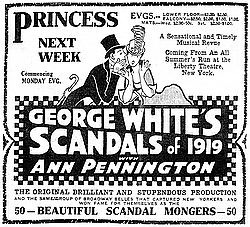 Advance advertisement for the tour of the original production of "George White's Scandals of 1919", to appear at the Princess Theatre, Toronto. Featured are Ann Pennington and 50 Beautiful Scandal Mongers
(TSW, Nov. 22, 1919, p. 26)

In 1927, George recalled that he and many other boys were hired to appear in black-face in the plantation scene of "Uncle Tom's Cabin". Too proud to ask for help, 10 year-old George used boot-blacking, which came off only after three days, with most of his skin. On the last night of the show, the manager held a dancing contest for a $10 prize, and George beat out 29 other boys. For $8 of the dancing prize, George bought a used tuxedo and satin knee-britches and hired himself out at a dollar a night to dance at stage and private parties (Kutner).

We found the "Boston Ideal Uncle Tom's Cabin Company" staging the play at Hanlan's Point in 1900 (TDS, June 22, 1900, p. 27). This was a travelling show that had just come in from playing in Buffalo and included "the Jimerson Piccaninnies, who are the youngest coloured cake walkers in America". It's unlikely that such a company travelled with a bunch of young extras, or even with its own orchestra. They probably hired locals at every stop. The Valentine Stock Company brought the authorized, undistorted version of "Uncle Tom's Cabin" to the Princess in Toronto the following year, featuring "a fine quartet, a levee jubilee scene and a real old fashioned cake walk" (TDS, Apr. 6, 1901, p. 2), but no mention of piccaninnies or of a dance contest.

Another Toronto dancing boy who became famous, Harland Dixon (1885-1969), recalled in 1963 at age 78 that he had won second prize in a dancing contest always staged on Fridays by the perennial travelling show "In Old Kentucky". George White won first prize and five dollars (Stearns, p. 205) and Dixon recalled the year as 1903. The Star and Globe databases show that "In Old Kentucky" played Toronto in 1896 and next in 1907 - too early and too late for George White – and we were unable to find the play visiting Toronto between March 4, 1899 and February 11, 1905 ("On the Road", NYC). In 1903, however, the other extremely popular Southern melodrama, "Uncle Tom's Cabin", in the Ireland Brothers' production, began a five-night stand at Association Hall in Toronto (TDS, Dec. 14, 1903, p. 20).

Unfortunately, we cannot date or document these childhood commercial activities at all. From this point, we are unable to document or verify most of the stories until Israel/Jessie, as George White, began to appear on the U.S. burlesque stage in 1907.

Return to the U.S.A.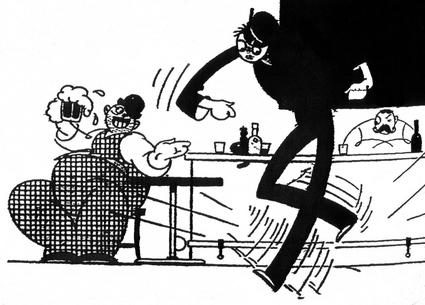 Later impression of "Swifty" White, the Dancing Messenger Boy, hoofing for thrown coins in a New York dive (Woolcott)

His often-told story is that he ran away from home ("the disapproving parental roof" according to Woolcott) at age 11 - one source says 13 - to Buffalo, where he was lonesome so he snuck onto a boat to Detroit, and there he worked as a boot-black for a barber named Nussi, who wanted to adopt him. At some point he was a mascot to a regiment, a newsboy, even a bell-hop, and he starved a lot. Over in Windsor, he was a stable- and exercise-boy at a racetrack, and perhaps a jockey (Kutner). The boy followed the races down to Latonia, Kentucky, in the autumn where he quit or was fired and turned up in nearby Cincinnati a few weeks later. He somehow snuck onto a train - hid under a seat or hopped a box-car - to New York City and, on his way to the vaguely-remembered Lower East Side, passed a Postal Telegraph Company office on Broadway or Murray Street displaying a "Boys Wanted" sign. The dirty, ragged, four-foot-six kid pestered the manager until the latter was about to jump over the counter and throw him out, but our boy pulled out his harmonica and let loose. The boss liked his harmonica tunes and his smile, advanced him 50c to buy a shirt, washed him up (Woolcott; MJ, Sept. 14, 1946, p. 13) and sent him out at 2c a message. On the late shift, he kept working on his dancing and on his harmonica and very early one morning had to deliver a telegram to "Piggy" Donovan who ran a dance hall in the Bowery below Canal Street. Observing a black kid dancing and being showered with coins, White asked Donovan if he could show him a few steps. "Think you can dance, do you?" asked Donovan. "Better that he can", replied the nervy White. The crowd went crazy for him - pitched him $12.30 in loose change - White tossed his receipt book and five telegrams (including two marked "Rush - Death") but continued wearing the blue messenger's uniform and cap and became "Swifty" White, the Dancing Messenger Boy.

Ben Ryan and George White, "The Dancing Dandies", drawing from NYC (Jan. 1, 1910, p 1192).
Ryan may have called George White a sissy for wanting to buy dress suits for their vaudeville act, or the Dolly Sisters may have come between them. Either of those possibilities, plus Ryan's anger over George's striving to network with actors rather than other hoofers, could have led to the break-up of "The Dancing Dandies".

With the gangling black kid, Sunny Swinton, as temporary partner (M.J., Sept. 14, 1946, p. 13), they toured the east-side dance halls nightly, even the notorious Chatham Club on the Bloody Angle in Chinatown, White collecting the coins and keeping most of the money. He haunted the burlesque palaces to pick up and work on new steps, won amateur-night prizes along the Bowery and became the best known dancer in the area. One undocumented source says that "Swifty" White was discovered by theatrical agents while dancing at the Chatham Club, and that Oscar Hammerstein I gave him a week's engagement at his Victoria Theater in New York (TDS, May 26, 1928, p. 4). There's also a story that "Swifty" had competition in Nigger Mike's, a Bowery bar, from a singing waiter known as "Singing Izzy" Baline (Irving Berlin). In one version, the kid was being a nuisance and Baline threw him out (TDS, ibid; Kutner; TWM, Jan. 6, 1936, p. 24; MJ, Sept. 14, 1946, p. 13).

Ben Ryan and George White: The Dancing Dandies

George met or was introduced to Bennett A. Ryan (1892-1968) at Steve Brodie's saloon-museum in the Bowery, circa 1905, and they formed a dancing duo (NYT, July 31, 1921, pt. 6, p. 1). Brodie (1869-1901), bookie, taverner and Brooklyn Bridge-jumping "daredevil", was not present. Their first job together was in Sam A. Scribner's long-running burlesque "Gay Morning Glories", though 14 year-old White had to swear that he was 16. At season's end, business manager George asked for $30 instead of $20 a week, and they were fired. Fortunately, they found a gig at the Third Avenue Theatre in New York (Kutner). Ryan and White first turned up in the Vaudeville Route List of The New York Clipper (NYC) on June 8, 1907, appearing the

Ryan and White, wooden shoe dancers, on the afternoon vaudeville bill among 10 Big Acts at Hammerstein's Victoria Theatre of Varieties, and on the Roof Garden, evenings, both headlined by Miss Gertrude Hoffmann and by Australia's brilliant aquatic artist, Annette Kellerman, the Diving Venus
(NYT, July 18, 1909, p. 7)

week of the 3rd at The Family Theatre in Scranton, Pa., possibly in their third week there.

Ryan and White on the vaudeville bill at the Shea's Theatre, Toronto, headlined by Miss Hetty King
(TDS, Jan. 24, 1910, p. 5)

They moved on to The Family in Lancaster, the Grand Opera House in Pittsburgh and Henderson's Seaside Music Hall at Coney Island in August, to the Empire in Patterson, N.J., the Empire in Hoboken and Keith's in Providence in October.

Songwriter John Golden recollected seeing Ryan and White teaching a new dance step to young Elsie Janis, star of Dillingham's musical "Hoyden", just weeks after the October 19, 1907 opening, and most probably on the stage of the Knickerbocker Theatre in Manhattan (RE, Mar. 2, 1956, p. 10). Then to Proctor's in Troy, N.Y., in late November, Sheedy's in Fall River and Keith's in Boston in December, Hathaway's in Brockton House, Mass., in early January 1908 and then directly to the Orpheum in Yonkers, N.Y. After that, mostly Poli's and Bennett's theatres, until the "Dancing Dandies" landed Keith's in Portland and Philadelphia in June, Proctor's in Newark and Albany in November, and their first appearance at Hammerstein's Victoria in Manhattan, November 16 - 21, 1908 (NYC, Nov. 21, 1908, p. 1010).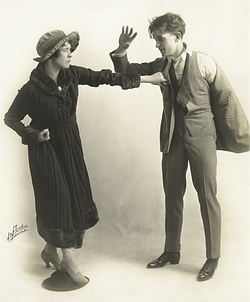 Ben Ryan later teamed up with Harriette Lee, and they were famous for their "Dumb Dora" act. He was at one time engaged to marry Gracie Allen, but lost her to Nathan Birnbaum (George Burns), who further developed the "Dumb Dora" genre. Ryan later wrote sketches for "Scandals", comedy for Fred Allen, Jack Benny and Groucho Marx and is best known for his songs "When Frances Dances with Me", "Inka-Dinka-Doo", "The Old Gang that Sang Heart of My Heart", "M-i-s-s-i-s-s-i-p-p-i" and "Down on the East Side at 33rd and 3rd".
Courtesy Billy Rose Theatre Division, The New York Public Library for the Performing Arts, Astor, Lenox and Tilden Foundations

On their return to the Victoria, March 22 - 27, and at Oscar Hammerstein's Victoria Roof Garden from June 21 until August 28, 1909 (NYC), they were billed as wooden shoe dancers (tap dancers), along with Gertrude Hoffmann in "A Vision of Salome", Annette Kellermann "The Diving Venus" and Maude Rochez' "A Night in a Monkey Music Hall" (NYT, July 18, 1909, p. 7). That engagement at the Victoria, "the great nut vaudeville house", lasted a total of ten weeks! In another long engagement at the Victoria, June 13 - July 2, 1910, they were billed as "singers and dancers" (NYC, June 18, 1910, p. 468). They must have continued working, but their NYC listings were sporadic in 1910, and their last listing together was for July 25 - 30 at Keith and Porter's 5th Avenue Theatre in New York.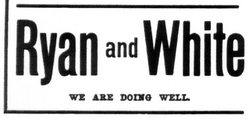 Artist advertisement: "Ryan and White: We Are Doing Well"
(NYC, Jan. 1, 1910, p. 1192).

We found Ryan and White dancing at Bennett's Theatre in Montreal, April 6 - 11 and at Bennett's in Hamilton from April 27 to May 2, 1908 (NYC, April 11, 1908, p. 212; ibid., May 2, 1908, p. 292). In Hamilton, they were billed as singers and dancers, the promo reading "these two are known as the dancing dandies and take well wherever they go" (HS, Apr. 25, 1908, p. 13). The review said "quick-footed dancers, whose smoothness of action has been most favourably commented upon" (HS, Apr. 29, 1908, p. 9). Later, they were on the bill at the Shea's, Toronto, with male impersonator Hetty King: "....Then more dancing from Ryan and White, who are advertised as absolutely the best dancers in vaudeville, and they may be. At any rate they can do everything with their feet except paint pictures...." (ET, Jan. 26, 1910, p. 6).

As early as 1908, Ryan and White informed the profession "We Are Doing Well" (V, June 20, 1908, p. 34; ibid., June 27, 1908, p. 30). They were well enough known by early 1910 that a sketch was published of the dancing duo (NYC, Jan. 1, 1910, p. 1192).

"George White: Toronto Star Newsboy Builds a Stairway to Broadway"
will be completed by the publication of Part 2 in the November-December issue of APN

References:
| | |
| --- | --- |
| AD | "A Delightful Little Scandal" by Caleb F. Howard, in The American Dancer, Oct. 1928, p. 9 |
| ALE | Ancestry, Library Edition, on-line - Ancestry.com |
| BH | Bridgeport Herald, Bridgeport, Connecticut |
| Bloom | Broadway, its History, People and Places - An Encyclopedia by Ken Bloom; Routledge, New York, 2004, p. 555 |
| BRC | Biography Resource Center, on-line - http://galenet.galegroup.com/ |
| CC | Canadian Census |
| CTA | City of Toronto Archives |
| Cullen | Vaudeville Old and New: An Encyclopedia of Variety Performers in America, by Frank Cullen; Routledge Taylor & Francis Group, New York, 2007, p. 1194 |
| ET | Evening Telegram, Toronto, Ontario |
| Ewen | George Gershwin: His Journey to Greatness by David Ewen; Prentice-Hall, Inc., New York, 1970, p. 60 |
| Flashback | Canadian Broadcasting Corporation television program, March 28, 1965 |
| G | Globe, Toronto, Ontario |
| HBC | "The History of Bobby Clark and Paul McCullough" by Michael D. Brick in "The Clark and McCullough Database", on-line, 2006 |
| HS | Hamilton Spectator, Hamilton, Ontario |
| HZG | Historical Ziegfeld Group, on-line - http://ziegfeldgrrl.multiply.com - click on "Miss 1917" |
| Jablonski | The Gershwin Years by Edward Jablonski and Lawrence D. Stewart, Doubleday & Co., Garden City, N.Y., 1958 |
| Kutner | "The Hoofer Who Became a Producer" by Nanette Kutner, Theatre Magazine, XVVI #316, p. 22, July 1927 |
| Leslie | A Hard Act to Follow: A Music Hall Review by Peter Leslie; Paddington Press, Ltd., New York, 1978 |
| MCTD | Might's City of Toronto Directory |
| MJ | Milwaukee Journal, Milwaukee, Wisconsin |
| Norton | A Chronology of American Musical Theater by Richard C. Norton; Oxford University Press, Oxford, 2002 (NOTE: A George White appeared in "Captain Rufus" and "The Husband" at the Harlem Music Hall, the weeks of August 12 & 19, 1907, but the company was the Pekin Stock from Chicago, "one of the best of the coloured companies" (NYC, Aug. 17, 1907, p. 700). |
| NYC | New York Clipper |
| NYEG | New York Evening Graphic, New York City |
| NYT | New York Times, New York City |
| PRC; CTA | Police Register of Criminals, City of Toronto Archives, Access #141489 and #141490 |
| PPG | Pittsburgh Post-Gazette, Pittsburgh, Pennsylvania |
| RE | Reading Eagle, Reading, Pennsylvania |
| SHJ | Spartanburg Herald-Journal, Spartanburg, South Carolina |
| Stearns | Jazz Dance: The Story of American Vernacular Dance by Marshall Winslow Stearns and Jean Stearns; The Macmillan Company, New York, 1968 |
| TDS | Toronto Daily Star, Toronto, Ontario |
| TDSBA | Toronto District School Board Archives |
| TST | "George White: School for Scandal" in Times Square Tintypes by Sydney Skolsky; Ives Washburn, New York, 1930, page 29 |
| TSW | Toronto Star Weekly, Toronto, Ontario |
| TW | Toronto World, Toronto, Ontario |
| TWM | Time, The Weekly Magazine |
| USC | United States Census |
| V | Variety |
| VO | Variety Obituaries, Vol. 6, Oct. 16, 1968 |
| Woolcott | "The Rise of Swifty White" by Alexander Woolcott, Collier's Magazine (U.S.), May 19, 1928, p. 12 |
| WT | Winnipeg Tribune, Winnipeg, Manitoba |