CAPS 40th Anniversary
Canadian Antique Phonograph Society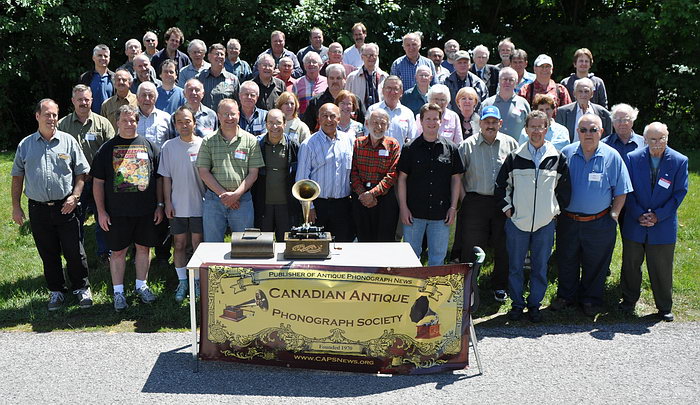 | | |
| --- | --- |
| Front row: | Mike Dicecco, Brad Berger, Danny Ogaki, Dave Dazer, Umberto Tufaro, Mike Bryan, Paul Dodington, Sean Ewart, Ron Drover, Steve Webber, Ken Vinen, John Alexander |
| 2nd row: | Bruce Ward, Cecil Byers, Horst Weggler, Roger Randall, Jeanne Randall, Trish McAlpine, John Peel, Audrey Peel, Mary Forbes, Betty Pratt, Arthur Zimmerman |
| 3rd row: | Domenic DiBernardo, Mark Caruana, Brian McAlpine, Saul Glass, Noel Martin, Doug Platt |
| 4th row: | Mark Quail, Bob Schisler, Bob Nix, John Milne, John Brown, John Rutherford, Ron MacIntyre, Peter Hopkins |
| 5th row: | Gary Pyper, Ken Donovan, David Lennick, Arthur Richardson, Don Woodrow, Angelo Raffin, Fred Toulch, Peter Charlebois, Don Kelly, Jeremy Hopkin |
| Back row: | Larry Moore, Bernie Jocque, Ed Moran, Steve Sandbrook, Paul-André Lawrie, Harold Glick, Bill Pratt |
June's meeting of the membership marked a milestone in the Society's history as 2010 is CAPS' 40th year. In attendance on this day were some of CAPS' members from its inaugural year including Ken Vinen, Dr. Peter Charlebois, Don Kelly, John Peel and Paul Dodington. John Alexander who joined in 1971 was also present. Paul Dodington spoke about CAPS' early history and how the meetings in the early years were held in various members' homes. Paul made note that the hobby was viewed with some skepticism in the early days by outsiders because the machines had no value. He noted that as time passed, and the phonographs grew in value, the group's focus grew more serious.

This meeting also featured the playing of two recordings made originally by Paul Dodington in 1971 and 1976 on an Edison Home Phonograph using a wax cylinder. The recordings featured the voices of then CAPS members, including some of the early members who were in attendance at this celebratory anniversary meeting. All seemed to enjoy hearing themselves from the past.

After a group photo was taken, pizza and cake were the order of the day to wind up the celebrations before returning to the serious business of the regular auction. Having passed the 40th year, CAPS' 50th does not seem far away.
| | |
| --- | --- |
| June 6, 2010 | Pizza and cake beckons |